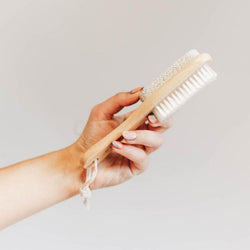 Wooden Pumice Brush | BKIND
This shower brush has on one side a pumice stone which makes a perfect natural exfoliant for the feet, and on the other side a brush made out of polypropylene bristles.
The pumice stone, which comes from molten volcanic rocks, reduces the accumulated dead skin on the feet. On the other side, the brush, which is the perfect mix of softness and rigidity, will clean your feet softly. It can also be used for dry brushing: it makes a lymphatic massage that helps stimulate the body's blood circulation and consequently evacuate toxins from the body. This also helps to vivify the nervous system and improve muscle toning in order to prevent aging of the skin.
Free Local Pick Ups
Pick Up Hours 
Sunday/Monday
CLOSED
Tues - Fri
10am - 5pm
Saturday
10am - 4pm
Deliveries are made Monday to Friday.
Local Deliveries (within 15km of store location) $7 or Free over $25
Local Deliveries take 1-2 business days to package and fulfill. 
Exchanges can be made within 14 days of the original order. Receipt MUST be used in order to process exchange. In order to process your exchange please email info@ritualskinco.com or come to our main store location. 
8 Court St. S. Thunder Bay, ON, P7B2W3
Product must be returned to store during open hours. You can exchange for another product (price adjustments may be applied and paid before exchange can occur) or you can also exchange for store credit.
Products will no longer be accepted after 14 days regardless of reason.