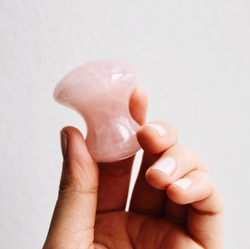 mountlai
The De-Puffing Rose Quartz Eye Massage Tool | Mount Lai
A breath of calmness in your busy life. A daily ritual, an act of self care.
What it is:
Inspired by Chinese acupressure points, this massage tool is crafted from rose quartz for a soothing, cooling effect on the eye area.
Rose quartz has calming properties and aids in meditation and reflection. It is known as the stone of love.
What it does:
Designed specifically to treat the delicate skin around the eyes, this tool:
Reduces puffiness and can help reduce eye bags

Awakens and rejuvenates the eye area

Aids in absorption of eye cream or serum into the skin
How to use:
After applying an eye serum or eye cream, gently slide the tool on the under eye area, starting from the inner corner of the eye to the temple. Repeat a few times and follow by gently gliding the tool above the eyelid to reduce puffiness.
Due to natural variations in stone, every eye tool is unique in color and pattern. The stones + crystals we use are authentic and natural. We do not artificially dye or treat the stones to let their true beauty shine through.
Free Local Pick Ups
Pick Up Hours 
Sunday/Monday
CLOSED
Tues - Fri
10am - 5pm
Saturday
10am - 4pm
Deliveries are made Monday to Friday.
Local Deliveries (within 15km of store location) $7 or Free over $25
Local Deliveries take 1-2 business days to package and fulfill. 
Exchanges can be made within 14 days of the original order. Receipt MUST be used in order to process exchange. In order to process your exchange please email info@ritualskinco.com or come to our main store location. 
8 Court St. S. Thunder Bay, ON, P7B2W3
Product must be returned to store during open hours. You can exchange for another product (price adjustments may be applied and paid before exchange can occur) or you can also exchange for store credit.
Products will no longer be accepted after 14 days regardless of reason.