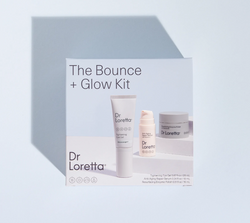 The Bounce + Glow Kit | Dr. Loretta
Unveil brighter, bouncier, more protected skin.
Your starter set for unlocking a bouncy, youthful glow. The Bounce + Glow Kit helps smooth lines and wrinkles, fade uneven skin tone and protect against future skin-aging damage from pollution, light, climate and irritants when used regularly in your routine.
Perfect For
All skin types
For evening skin tone and smoothing fine lines
When To Use:
Your daily essentials:
Tightening Eye Gel
Anti-Aging Repair Serum
Your weekly ritual:
Resurfacing Enzyme Polish
How To Use:
Tightening Eye Gel: Apply in patting motions 360 degrees around the eye area, avoiding lash line. Use AM and PM.
Anti-Aging Repair Serum: Apply to face and neck. Use AM and PM. Always finish with SPF in the morning.
Resurfacing Enzyme Polish: Gently massage in circular motions into damp skin and leave on for 5 to 10 minutes. Rinse off thoroughly. Repeat 2 to 4 times a week.
Free Local Pick Ups
Pick Up Hours 
Sunday/Monday
CLOSED
Tues - Fri
10am - 5pm
Saturday
10am - 4pm
Deliveries are made Monday to Friday.
Local Deliveries (within 15km of store location) $7 or Free over $25
Local Deliveries take 1-2 business days to package and fulfill. 
Exchanges can be made within 14 days of the original order. Receipt MUST be used in order to process exchange. In order to process your exchange please email info@ritualskinco.com or come to our main store location. 
8 Court St. S. Thunder Bay, ON, P7B2W3
Product must be returned to store during open hours. You can exchange for another product (price adjustments may be applied and paid before exchange can occur) or you can also exchange for store credit.
Products will no longer be accepted after 14 days regardless of reason.