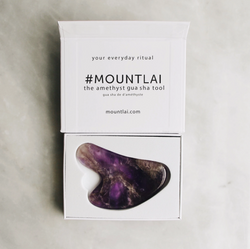 mountlai
The Amethyst Gua Sha Facial Lifting Tool | Mount Lai
A breath of calmness in your busy life. A daily ritual, an act of self care.
What it is:
Gua sha has been practiced in Traditional Chinese Medicine for thousands of years. Perfected throughout the centuries, this amethyst gua sha tool was built to have a firming, lifting effect on the skin.
Amethyst is stress relieving and cleansing of negative energies. It promotes clarity and relaxation.

What it does:
Besides improving overall health and radiance of the skin, gua sha has a multitude of benefits.
Promotes lymphatic drainage

Reduces puffiness and fluid buildup

Relieves facial and jaw tension

Aids in circulation to give skin a glow

Firms and lifts the face over time
How to use:
- Start with a clean face and prep skin with a facial oil or serum.
-Keep the tool flat against the face and begin with the forehead. Scrape in an upwards motion from the eyebrows to the hairline.
- Move to the cheeks and scrape in an outwards motion starting from the crease of the nose until the ear.
- Move to the jawline and use the end of the gua sha tool with the two curves. Start from the chin and scrape until the ear. Gently massage the gua sha tool into the ear to release tension.
- For the under-eye area, very gently scrape the gua sha from the inner corner of the eye outwards to the temple. Because the area is so sensitive, it is important to only apply light pressure.
Free Local Pick Ups
Pick Up Hours 
Sunday/Monday
CLOSED
Tues - Fri
10am - 5pm
Saturday
10am - 4pm
Deliveries are made Monday to Friday.
Local Deliveries (within 15km of store location) $7 or Free over $25
Local Deliveries take 1-2 business days to package and fulfill. 
Exchanges can be made within 14 days of the original order. Receipt MUST be used in order to process exchange. In order to process your exchange please email info@ritualskinco.com or come to our main store location. 
8 Court St. S. Thunder Bay, ON, P7B2W3
Product must be returned to store during open hours. You can exchange for another product (price adjustments may be applied and paid before exchange can occur) or you can also exchange for store credit.
Products will no longer be accepted after 14 days regardless of reason.