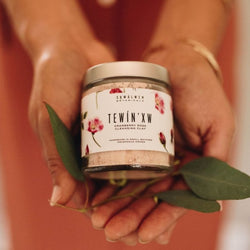 skwalwen
TEWÍN'XW CLEANSING CLAY | SḴWÁLWEN BOTANICALS
TEWÍN'XW (too-ay-nooh) is one of the Squamish words for berry.
This dual-purpose cleansing clay is a fragrant blend of kaolin, Moroccan and French pink clays, powdered rose petals, lavender, calendula and rosehips. As a gentle daily exfoliant, it helps refine and restore skin texture. Left on longer as a mask treatment, the clays work to lift impurities, cleansing deeply to reveal brighter, softer skin.
Ingredients: Kaolin (White Clay), Moroccan Clay (Rhassoul), French Pink Clay, Organic Rosa nutkana (Wild Rose) Flower Powder**, Chamaemelum nobile (Chamomile) Flower Powder*, Rosa canina (Rosehip) Seed Powder*, Vaccinium macrocarpon (cranberry) powder, Althaea Officinalis (Marshmallow) Root Powder
Instructions: Shake a small amount onto the palm of your hand or into a bowl, add enough water to make a paste and gently massage onto face. Rinse thoroughly with warm water. Can be left on for 10-15 minutes as a face mask treatment for deeper cleansing.
118ml / 4oz
*organic **wildcrafted
Free Local Pick Ups
Pick Up Hours 
Sunday/Monday
CLOSED
Tues - Fri
10am - 5pm
Saturday
10am - 4pm
Deliveries are made Monday to Friday.
Local Deliveries (within 15km of store location) $7 or Free over $25
Local Deliveries take 1-2 business days to package and fulfill. 
Exchanges can be made within 14 days of the original order. Receipt MUST be used in order to process exchange. In order to process your exchange please email info@ritualskinco.com or come to our main store location. 
8 Court St. S. Thunder Bay, ON, P7B2W3
Product must be returned to store during open hours. You can exchange for another product (price adjustments may be applied and paid before exchange can occur) or you can also exchange for store credit.
Products will no longer be accepted after 14 days regardless of reason.