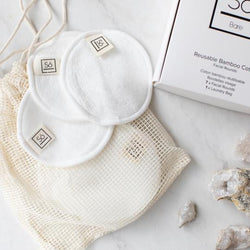 so luxury
Só Bare - Reusable Bamboo Cotton Facial Rounds | Só Luxury
Só Bare - Reusable Bamboo Cotton Facial Rounds remove makeup, cleanse and tone your face with a zero-waste lifestyle, helping to keep 1000's of disposable pads out of our landfills!  Our 3 layer, 8cm diameter rounds are dual sided, bamboo terry for a deeper cleanse or bamboo velvet for more sensitive skin such as the under eye area.
Directions:  Dampen with warm water and use with your fav cleanser and Só Tonic, rub in circular motions, rinse well after use to prevent staining.  Machine wash in the included laundry bag, allow to dry naturally.  Do not use fabric softener or bleach.  Once worn out, pads and laundry bag may be cut up and composted!
Includes 7 Facial Rounds and 1 Laundry Bag.
Free Local Pick Ups
Pick Up Hours 
Sunday
12pm - 4pm
Monday - Saturday
10am - 6pm
Deliveries are made Monday to Friday.
Local Deliveries (within 15km of store location) Free over $25
Local Deliveries take 1-2 business days to package and fulfill. 
Exchanges can be made within 14 days of the original order. Receipt MUST be used in order to process exchange. In order to process your exchange please email info@ritualskinco.com or come to our main store location. 
8 Court St. S. Thunder Bay, ON, P7B2W3
Product must be returned to store during open hours. You can exchange for another product (price adjustments may be applied and paid before exchange can occur) or you can also exchange for store credit.
Products will no longer be accepted after 14 days regardless of reason.