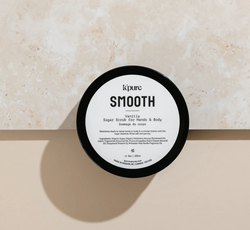 kpure
SMOOTH Organic Sugar Scrub for Hands and Body | k'pure
This scrub smells good enough to eat! Apply in a circular motion, starting at your ankles and working your way up to your shoulders, applying more as needed. Once your entire body is covered, start applying small amounts of warm water in the same circular motion, until you feel the sugar begin to dissolve. Now would be a great time to shave your legs, using the rich paste as a luxurious shaving gel. (Pay attention, the shower floor may get slippery) Next, rinse well and pat dry with a towel. Avoid rubbing the moisturizing oils off. Your skin will be the smoothest and softest it's ever been. You're welcome.
Ingredients: Organic sugar, organic sunflower oil, sweet almond oil, coconut oil and a blend of pure, organic citrus essential oils OR phthalate-free vanilla fragrance oil.

Available in 16oz (perfect to keep next to the sink for smooth hands).
Free Local Pick Ups
Pick Up Hours 
Sunday/Monday
CLOSED
Tues - Fri
10am - 5pm
Saturday
10am - 4pm
Deliveries are made Monday to Friday.
Local Deliveries (within 15km of store location) $7 or Free over $25
Local Deliveries take 1-2 business days to package and fulfill. 
Exchanges can be made within 14 days of the original order. Receipt MUST be used in order to process exchange. In order to process your exchange please email info@ritualskinco.com or come to our main store location. 
8 Court St. S. Thunder Bay, ON, P7B2W3
Product must be returned to store during open hours. You can exchange for another product (price adjustments may be applied and paid before exchange can occur) or you can also exchange for store credit.
Products will no longer be accepted after 14 days regardless of reason.