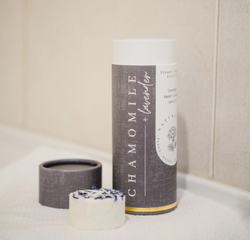 Shower Steamers - Chamomile Lavender | Natura Soy
Whether you are just starting or winding down your day, boost your mind and body with an aromatic spa experience unlike no other!
Shower Steamers are a quick, convenient and blissful way to add some aroma to any space without compromising the air you breathe - Just pop, drop and fizz!
Why Shower Steamers:
Quick and convenient way to add some natural aromatherapy to your shower routine
Fragranced with pure essential oils to help revive your body and power up your mind. 
Small & portable – take them on the road with you
Gentle & natural ingredients - no weird chemicals or dyes
Biodegradable ingredients. Bottle made with 100% recycled materials. 100% recyclable.
1 tube contains 6 shower steamers. 
Each shower steamer tablet lasts approximately 2 showers 
Free Local Pick Ups
Pick Up Hours 
Sunday/Monday
CLOSED
Tues - Fri
10am - 5pm
Saturday
10am - 4pm
Deliveries are made Monday to Friday.
Local Deliveries (within 15km of store location) $7 or Free over $25
Local Deliveries take 1-2 business days to package and fulfill. 
Exchanges can be made within 14 days of the original order. Receipt MUST be used in order to process exchange. In order to process your exchange please email info@ritualskinco.com or come to our main store location. 
8 Court St. S. Thunder Bay, ON, P7B2W3
Product must be returned to store during open hours. You can exchange for another product (price adjustments may be applied and paid before exchange can occur) or you can also exchange for store credit.
Products will no longer be accepted after 14 days regardless of reason.