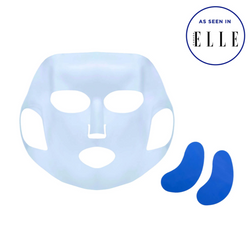 Reusable Silicone Sheet Mask Set for Face + Eyes | Province Apothecary
Elevate your skincare routine with the ultimate skincare tool. Our Reusable Silicone Sheet Masks For Face + Eyes are the last sheet masks you will ever need!
Why it's special:
Get all the benefits of a sheet mask without the waste. Lock in your favourite serums and balms to repair barrier function, deeply hydrate, and improve the appearance of fine lines and wrinkles. 
These masks are designed to hold oil serums and balms close to the skin to help preserve the maximum amount of essence for skin nutrition.
Simply pair the mask set with your favourite Province Apothecary hydrating product, rinse and reuse.
Great for all skin types
CARE INSTRUCTIONS
To clean, rinse with warm water and wash well with a gentle soap to remove any excess product.
Let each piece air dry before placing the set into the reusable pouch.
With proper care and maintenance, your reusable silicone masks will last for hundreds of uses!
Free Local Pick Ups
Pick Up Hours 
Sunday
12pm - 4pm
Monday - Saturday
10am - 6pm
Deliveries are made Monday to Friday.
Local Deliveries (within 15km of store location) Free over $25
Local Deliveries take 1-2 business days to package and fulfill. 
Exchanges can be made within 14 days of the original order. Receipt MUST be used in order to process exchange. In order to process your exchange please email info@ritualskinco.com or come to our main store location. 
8 Court St. S. Thunder Bay, ON, P7B2W3
Product must be returned to store during open hours. You can exchange for another product (price adjustments may be applied and paid before exchange can occur) or you can also exchange for store credit.
Products will no longer be accepted after 14 days regardless of reason.