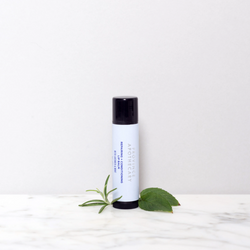 Repairing + Conditioning Lip Balm | Province Apothecary
BENEFITS | The best lip balm for daily hydration to protect against the elements and to relieve chapping, cracking and flaking. The blend of rich plant-based oils soothes and nourishes lips, providing long lasting benefits without feeling greasy or sticky. The light scent is invigorating and leaves you feeling refreshed.
KEY INGREDIENTS | Lavender oil | Amazing first aid properties and acts as a valuable skin conditioner that moisturizes and softens while soothing chapping and roughness. Peppermint leaf oil | Contains menthol which cools while energizing and bringing a flushed look to the skin.
DIRECTIONS | Apply to lips as often as needed. Use daily to prevent damage and protect from the elements
INGREDIENTS: Sunflower seed oil*, Beeswax*, Extra Virgin Olive oil* [infused with Calendula flower]*, Vitamin E, Peppermint leaf oil, Lavender oil*, Rosemary oil*. *Certified Organic
Free Local Pick Ups
Pick Up Hours 
Sunday/Monday
CLOSED
Tues - Fri
10am - 5pm
Saturday
10am - 4pm
Deliveries are made Monday to Friday.
Local Deliveries (within 15km of store location) $7 or Free over $25
Local Deliveries take 1-2 business days to package and fulfill. 
Exchanges can be made within 14 days of the original order. Receipt MUST be used in order to process exchange. In order to process your exchange please email info@ritualskinco.com or come to our main store location. 
8 Court St. S. Thunder Bay, ON, P7B2W3
Product must be returned to store during open hours. You can exchange for another product (price adjustments may be applied and paid before exchange can occur) or you can also exchange for store credit.
Products will no longer be accepted after 14 days regardless of reason.