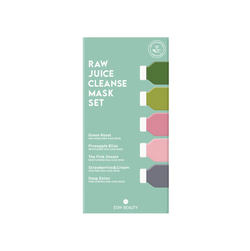 Raw Juice Cleanse Mask Set | ESW BEAUTY
ABOUT ME:
Restore and renew your skin with the raw juice inspired masks. This set will provide anti-aging, revitalizing, moisturizing, soothing, and pore control functions. Similar to a multi-day juice cleanse, get the best results by targeting each skin concern with our five day skin treatment.
 
- Clean Ingredients
- Vegan
- Cruelty-Free
- Sustainable
- Compostable Sheet Masks
 
FREE OF:
Parabens, Phthalates, Synthetic Fragrances, Formaldehyde, and Sulfate Detergents
Mask Details
Green Reset Anti Aging Raw Juice Mask
Packed with kale, spinach, broccoli, and apple extracts, this sheet mask is like a green juice for your face. The formula helps reset your skin's clock by decreasing the appearance of wrinkles and promoting youthful skin.

Pineapple Bliss Revitalizing Raw Juice Mask


Rejuvenate dull, tired skin and brighten your complexion with this pineapple infused sheet mask. Kiwi, ginger, and pear extracts work together to provide nutrition to your skin and leave it smooth and supple.

The Pink Dream Moisturizing Raw Juice Mask


Transform a dry and rough complexion with this sheet mask featuring watermelon, rose water, and grapefruit extracts. These ingredients work together to create a formula that hydrates and nourishes your skin. This essence is packed with Vitamin E + Vitamin C, which provide intense moisturization and a healthy glow.

Strawberries & Cream Soothing Raw Juice Mask


Strawberries & Cream has the perfect medley of ingredients that provide nourishment and hydration to your complexion. This sheet mask contains coconut, vanilla bean, almond milk, and strawberry extracts which help soothe sensitive skin.

Deep Detox Pore Control Raw Juice Mask


This pore control targeted sheet mask contains activated charcoal, lemon juice, and H2O which help detox your skin. Charcoal, the star ingredient of this skin treatment, purifies, decongests, and draws out dirt and impurities from your pores.
Free Local Pick Ups
Pick Up Hours 
Sunday/Monday
CLOSED
Tues - Fri
10am - 5pm
Saturday
10am - 4pm
Deliveries are made Monday to Friday.
Local Deliveries (within 15km of store location) $7 or Free over $25
Local Deliveries take 1-2 business days to package and fulfill. 
Exchanges can be made within 14 days of the original order. Receipt MUST be used in order to process exchange. In order to process your exchange please email info@ritualskinco.com or come to our main store location. 
8 Court St. S. Thunder Bay, ON, P7B2W3
Product must be returned to store during open hours. You can exchange for another product (price adjustments may be applied and paid before exchange can occur) or you can also exchange for store credit.
Products will no longer be accepted after 14 days regardless of reason.