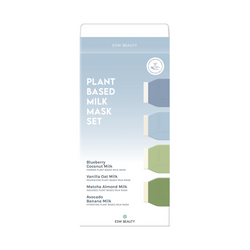 Plant-Based Milk Mask Set | ESW BEAUTY
ABOUT ME:
Looking for milky glass skin? Explore our plant-based milk inspired sheet masks. This set features our compostable masks, which promote firming & nourishing benefits as well as provide a hydrated and radiant complexion. Give your skin the premium experience with our facial treatments' rich serum & silky texture.
 
- Clean Ingredients
- Vegan
- Cruelty-Free
- Sustainable
- Compostable Sheet Masks
 
FREE OF:
Parabens, Phthalates, Synthetic Fragrances, Formaldehyde, and Sulfate Detergents
Mask Details



Blueberry Coconut Milk Firming Mask
This compostable Plant-Based Milk Sheet Mask contains blueberry and coconut extracts that reduce the appearance of fine lines and firm your complexion. These antioxidant-packed ingredients work together to rejuvenate tired skin.

Vanilla Oat Milk Nourishing Mask
Our Vanilla Oat Milk Sheet Mask is the perfect blend of ingredients to relieve and soothe stressed skin. This compostable, plant-based facial treatment contains vanilla and oat extracts, providing a balanced & nourished complexion.

Matcha Almond Milk Radiance Mask
Renew and refresh your skin with this compostable Matcha Almond Milk Sheet Mask. Combining green tea and sweet almond seed extracts, this facial treatment will awaken your skin and provide a radiant look, ideal for starting your day!

Avocado Banana Milk Hydrating Mask
Inspired by avocado flavored banana milk, this compostable Plant-Based Milk Sheet Mask is the go-to for all things hydration. Combining avocado and banana extracts, this rich blend provides deep moisturization and keeps your skin supple.
Free Local Pick Ups
Pick Up Hours 
Sunday/Monday
CLOSED
Tues - Fri
10am - 5pm
Saturday
10am - 4pm
Deliveries are made Monday to Friday.
Local Deliveries (within 15km of store location) $7 or Free over $25
Local Deliveries take 1-2 business days to package and fulfill. 
Exchanges can be made within 14 days of the original order. Receipt MUST be used in order to process exchange. In order to process your exchange please email info@ritualskinco.com or come to our main store location. 
8 Court St. S. Thunder Bay, ON, P7B2W3
Product must be returned to store during open hours. You can exchange for another product (price adjustments may be applied and paid before exchange can occur) or you can also exchange for store credit.
Products will no longer be accepted after 14 days regardless of reason.