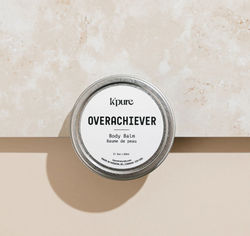 kpure
Overachiever | k'pure
 The organic body balm that does it all. Works on patches of eczema, dry elbows, cuticles and feet. Unscented, making it the perfect baby bum balm and nipple cream. Can also be used for tattoo healing.

Ingredients: 100% organic: beeswax, calendula infused sunflower oil, chickweed infused castor oil, shea butter and Vitamin E.

PLEASE NOTE: Your balm may become grainy over time, especially if the balm melts. To return the balm to it's creamy consistency: Remove lid from tin and place in oven at 200 degrees F, for 15 minutes. Remove carefully and place directly in fridge to firm up. Once firm, your balm will be as good as new!
Free Local Pick Ups
Pick Up Hours 
Sunday
12pm - 4pm
Monday - Saturday
10am - 6pm
Deliveries are made Monday to Friday.
Local Deliveries (within 15km of store location) Free over $25
Local Deliveries take 1-2 business days to package and fulfill. 
Exchanges can be made within 14 days of the original order. Receipt MUST be used in order to process exchange. In order to process your exchange please email info@ritualskinco.com or come to our main store location. 
8 Court St. S. Thunder Bay, ON, P7B2W3
Product must be returned to store during open hours. You can exchange for another product (price adjustments may be applied and paid before exchange can occur) or you can also exchange for store credit.
Products will no longer be accepted after 14 days regardless of reason.