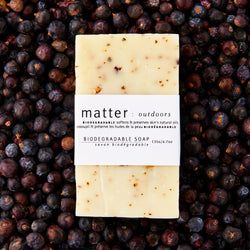 Oudoors X Biodegradable Soap | Matter Company
Cuts grease while preserving skin's natural oils;  juniper berries exfoliate naturally;  biodegradable; softens & protects naturally against the elements;  great for gardeners, campers, mechanics & other grease monkeys!
The ingredients are the product:
coconut oil, olive oil, shea butter, wheatgerm oil, vegetable glycerin, deionized water, echinacea, St. Johns wort, calendula flower, juniper berry meal, bergamot, cedar wood, canadian pine, and  grapefruit essential oil
Free Local Pick Ups
Pick Up Hours 
Sunday/Monday
CLOSED
Tues - Fri
10am - 5pm
Saturday
10am - 4pm
Deliveries are made Monday to Friday.
Local Deliveries (within 15km of store location) $7 or Free over $25
Local Deliveries take 1-2 business days to package and fulfill. 
Exchanges can be made within 14 days of the original order. Receipt MUST be used in order to process exchange. In order to process your exchange please email info@ritualskinco.com or come to our main store location. 
8 Court St. S. Thunder Bay, ON, P7B2W3
Product must be returned to store during open hours. You can exchange for another product (price adjustments may be applied and paid before exchange can occur) or you can also exchange for store credit.
Products will no longer be accepted after 14 days regardless of reason.