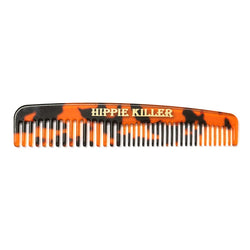 Non-Static Tortoise Shell Pocket Comb | Crown Shaving Co.
Description: Got a side-part? Or maybe a slick-back's more your thing? Either way, a good, non-static comb will keep those cuts intact come high winds or corner kicks. We went with tortoise shell for a classic look and a gold foil "Hippie Killer" print to remind you of what's what.
How To Use It: You know this part, but here's a tip to keep the thing clean and looking sexy — fill a cup with some warm water and soap then toss the comb in there after every other use (or so). Pull it out after 15 to 20 minutes and rinse it well before storage.
Free Local Pick Ups
Pick Up Hours 
Sunday/Monday
CLOSED
Tues - Fri
10am - 5pm
Saturday
10am - 4pm
Deliveries are made Monday to Friday.
Local Deliveries (within 15km of store location) $7 or Free over $25
Local Deliveries take 1-2 business days to package and fulfill. 
Exchanges can be made within 14 days of the original order. Receipt MUST be used in order to process exchange. In order to process your exchange please email info@ritualskinco.com or come to our main store location. 
8 Court St. S. Thunder Bay, ON, P7B2W3
Product must be returned to store during open hours. You can exchange for another product (price adjustments may be applied and paid before exchange can occur) or you can also exchange for store credit.
Products will no longer be accepted after 14 days regardless of reason.