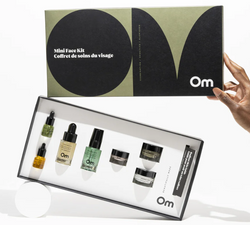 Mini Face Care Kit - Combination / Sensitive / Blemish Prone | Om Organics
Try out a new skincare routine, bring your current regimen on the road or give a much-loved gift. This handy kit includes a selection of our favourite minis for combination, sensitive or blemish-prone faces. Each package contains a mini cleanser, mist, elixir, oil, moisturizer, mask and eye cream. It's everything you need for a confident glow without the full-size commitment.

Includes:
White Willow Purifying Cleansing Gel - 18 ml
Spirulina Tonic Clarifying Face Mist - 18 ml
Pure + Calm Infusion Refining Face Elixir - 7 ml
Rosehip + Black Cumin Clarifying Face Oil - 6 ml
Coconut Dew Hyaluronic Moisture Cream - 12 ml
Bilberry + Tucuma Antioxidant Eye Cream - 4 ml
Charcoal + Matcha Detoxifying Face Mask - 13 ml

IDEAL FOR THESE SKIN TYPES
Oily
Combination
Sensitive
Blemish Prone
HOW LONG WILL THIS LAST ME?
WHITE WILLOW: 2 weeks; two pumps, twice a day
SPIRULINA TONIC: 2 weeks; four pumps, twice a day
PURE + CALM INFUSION: 2 weeks; dime size, twice a day
CLARIFYING FACE OIL: 4 weeks; four drops, twice a day
MOISTURE CREAM: 2 weeks; pea size, twice a day
EYE CREAM: 6 weeks; 1/4 pea size, twice a day
FACE MASK: 3 weeks; one dallop, once a week
PARABEN FREE
SULFATE FREE
GLUTEN FREE
PREGNANCY SAFE
CRUELTY FREE
NO SYNTHETIC FRAGRANCE
NO SYNTHETIC COLOUR
HANDCRAFTED IN CANADA
Find your balance. We've bundled your complete daily routine for nourished, soft and glowing skin in one box.

Skin Concerns: Reduces Breakouts , Reduces Redness , Improves Hydration , Improves Dryness , Repairs Skin , Regulates Oil , Evens Skin Tone
*Check individual product pages for more info*
Free Local Pick Ups
Pick Up Hours 
Sunday/Monday
CLOSED
Tues - Fri
10am - 5pm
Saturday
10am - 4pm
Deliveries are made Monday to Friday.
Local Deliveries (within 15km of store location) $7 or Free over $25
Local Deliveries take 1-2 business days to package and fulfill. 
Exchanges can be made within 14 days of the original order. Receipt MUST be used in order to process exchange. In order to process your exchange please email info@ritualskinco.com or come to our main store location. 
8 Court St. S. Thunder Bay, ON, P7B2W3
Product must be returned to store during open hours. You can exchange for another product (price adjustments may be applied and paid before exchange can occur) or you can also exchange for store credit.
Products will no longer be accepted after 14 days regardless of reason.