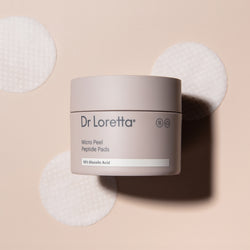 Micro Peel Peptide Pads | Dr. Loretta
Exfoliates to reduce appearance of fine lines and pores.
After forty years of dermatology practice and clinical research, Dr. Loretta has developed this peptide-infused glycolic peel to exfoliate, hydrate and calm in one simple step. Our Micro Peel Peptide Pads provide the perfect balance of exfoliation with skin hydration and calming. These lightly textured pads feature 10% glycolic acid at pH 3.5 to allow for advanced ungluing of dead cells at skin surface as well as in pores. Additionally, marine peptides produce a moisture surge and support collagen and, finally, kola, matte and guarana extracts provide proven skin-calming benefits.
Pollution: Low pH medical grade 10% glycolic acid enhances exfoliation of dead cells, debris and pollutants at surface and in pores.
Climate: Algae peptides increase skin's moisture levels to hydrate as it exfoliates.
Key Ingredients:
10% Glycolic Acid: Provides enhanced exfoliation and micro-peel by removing dead cells from each other and debris from pores and skin surface, improving skin texture, luminosity and lessening pore appearance and breakouts.
Marine Peptides: Replenish moisture loss caused by skin-drying environmental conditions and exfoliation, while also protecting skin from climate controlled and colder, drier environments.
Matte, Kola and Guarana Skin Calming Botanicals: Soothe skin and calm any stinging or irritation during the advanced exfoliation process.
Water (Aqua), Glycolic Acid, Glycerin, Sodium Hydroxide, Lactobacillus Ferment, Xanthan Gum, Butylene Glycol, Cola Nitida (Kola) Seed Extract, Ilex Paraguariensis (Mate) Leaf Extract, Paullinia Cupana (Guarana) Seed Extract, Ahnfeltia Concinna (Red Algae) Extract, Phenoxyethanol, Chlorphenesin, Sodium Dehydroacetate, Sodium Benzoate, Sorbic Acid.
Free Local Pick Ups
Pick Up Hours 
Sunday/Monday
CLOSED
Tues - Fri
10am - 5pm
Saturday
10am - 4pm
Deliveries are made Monday to Friday.
Local Deliveries (within 15km of store location) $7 or Free over $25
Local Deliveries take 1-2 business days to package and fulfill. 
Exchanges can be made within 14 days of the original order. Receipt MUST be used in order to process exchange. In order to process your exchange please email info@ritualskinco.com or come to our main store location. 
8 Court St. S. Thunder Bay, ON, P7B2W3
Product must be returned to store during open hours. You can exchange for another product (price adjustments may be applied and paid before exchange can occur) or you can also exchange for store credit.
Products will no longer be accepted after 14 days regardless of reason.