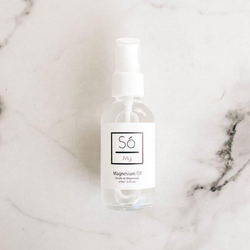 so luxury
Mag Oil | Só Luxury
Magnesium Oil is for use at the end of the day to promote a sense of relaxation and wellbeing through massage.  Apply before bedtime to the neck and shoulder area, lower back, legs or even the bottoms of your feet.
Key Ingredients
Magnesium Chloride
Magnesium is known as the "relaxation mineral" relieves muscle tension and promotes a restful sleep.

How to Use

Directions: Adults 15 – 30 sprays topically rubbed into the skin. You may layer the sprays or apply to multiple areas until you reach desired number of sprays. Start with 15 sprays and increase by 5 sprays until you find your #magoilmagic number. Allow to dry completely before contact with any fabrics. May leave a salty residue and can be rinsed off after 20 minutes.

31% Concentration

Ingredients: Distilled Water and Magnesium Chloride.
Free Local Pick Ups
Pick Up Hours 
Sunday/Monday
CLOSED
Tues - Fri
10am - 5pm
Saturday
10am - 4pm
Deliveries are made Monday to Friday.
Local Deliveries (within 15km of store location) $7 or Free over $25
Local Deliveries take 1-2 business days to package and fulfill. 
Exchanges can be made within 14 days of the original order. Receipt MUST be used in order to process exchange. In order to process your exchange please email info@ritualskinco.com or come to our main store location. 
8 Court St. S. Thunder Bay, ON, P7B2W3
Product must be returned to store during open hours. You can exchange for another product (price adjustments may be applied and paid before exchange can occur) or you can also exchange for store credit.
Products will no longer be accepted after 14 days regardless of reason.