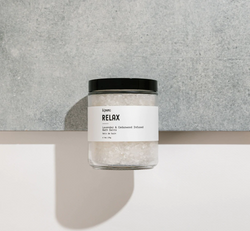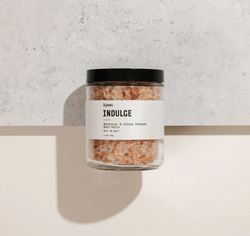 kpure
Salts Bath Soak | k'pure
Indulge bath soak -  A blend of citrus and sage pure and organic essential oils with organic Hibiscus flower. Pink Himalayan salts to detoxify and improve hydration and mineral absorption. 
A combo of Pink Himalayan salts, organic Hibiscus Flower, organic lime, lemon and sage essential oils. 
Recover Bath Soak - Your post workout treat for tired and sore muscles. A healing blend of salts, organic botanicals and essential oils. 
Ingredients: Epsom salts, organic peppermint leaf, pure and organic essential oils: peppermint, lemon, eucalyptus and rosemary. 
Relax Bath Soak - A bath soak before bed or any time of day, with detoxifying Dead Sea salts, soothing, organic calendula and a calming blend of organic lavender and cedarwood. 
Free Local Pick Ups
Pick Up Hours 
Sunday
12pm - 4pm
Monday - Saturday
10am - 6pm
Deliveries are made Monday to Friday.
Local Deliveries (within 15km of store location) Free over $25
Local Deliveries take 1-2 business days to package and fulfill. 
Exchanges can be made within 14 days of the original order. Receipt MUST be used in order to process exchange. In order to process your exchange please email info@ritualskinco.com or come to our main store location. 
8 Court St. S. Thunder Bay, ON, P7B2W3
Product must be returned to store during open hours. You can exchange for another product (price adjustments may be applied and paid before exchange can occur) or you can also exchange for store credit.
Products will no longer be accepted after 14 days regardless of reason.