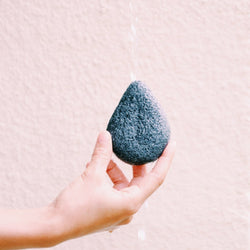 Konjac Facial Sponge - Bamboo Charcoal | BKIND
Your beauty routine will never be this easy. Our bamboo charcoal Konjac sponge cleans your face and removes all impurities while gently exfoliating your skin.
Here is what you get:
- 100% natural fibers
- exfoliates gently
- cleanses deeply
- refines the pores
- cleanses and exfoliates gently the sensitive eye area
- leaves the skin radiant and rejuvenated
- suitable for sensitive skin
- balances the pH of the skin
- 100% natural, additives and coloring agent free

What is the Konjac sponge?

This 100% natural and biodegradable sponge is made from vegetable fibers. Its irregular texture makes it an excellent natural exfoliator. Known for its cleansing and sanitizing properties, charcoal will remove all impurities from your skin, leaving it all clean and soft.
This sponge is recommended for oily or problematic skin.

Before use, rinse the sponge with warm water. Gently massage the face with circular motions. Allow the sponge to dry before storage. Always allow the sponge to fully absorb water before use.
The sponge expands to full size when hydrated with water, the perfect dimension for your
hand.
Free Local Pick Ups
Pick Up Hours 
Sunday/Monday
CLOSED
Tues - Fri
10am - 5pm
Saturday
10am - 4pm
Deliveries are made Monday to Friday.
Local Deliveries (within 15km of store location) $7 or Free over $25
Local Deliveries take 1-2 business days to package and fulfill. 
Exchanges can be made within 14 days of the original order. Receipt MUST be used in order to process exchange. In order to process your exchange please email info@ritualskinco.com or come to our main store location. 
8 Court St. S. Thunder Bay, ON, P7B2W3
Product must be returned to store during open hours. You can exchange for another product (price adjustments may be applied and paid before exchange can occur) or you can also exchange for store credit.
Products will no longer be accepted after 14 days regardless of reason.