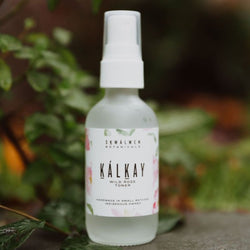 skwalwen
KALKÁY WILD ROSE TONER | SḴWÁLWEN BOTANICALS
KALKÁY (call-kay) is the Squamish word for wild rose bush.
Formulated to refresh and nourish the skin, this facial toner is a blend of rose and chamomile and witch hazel hydrosols. The alcohol-free formula is gentle and soothing for all skin types, and the rose component aids in reducing redness. No tightness or drying effect here ~ just perfectly clean, soft skin that's prepped for moisturizing.
Ingredients: Rosa damascene (Rose) Flower Distillate, Chamaemelum nobile (Chamomile) Flower Distillate, Hamamelis virginiana (Witch Hazel) non-alcohol containing Distillate, Rosa canina (rosehip) Oil, Leucidal (Radish Root Ferment) Blend of Essential Oils
Instructions: Spritz onto cotton pad and use after cleansing to remove any residual makeup or build up before moisturizing.
60 ml / 2.12oz
Free Local Pick Ups
Pick Up Hours 
Sunday/Monday
CLOSED
Tues - Fri
10am - 5pm
Saturday
10am - 4pm
Deliveries are made Monday to Friday.
Local Deliveries (within 15km of store location) $7 or Free over $25
Local Deliveries take 1-2 business days to package and fulfill. 
Exchanges can be made within 14 days of the original order. Receipt MUST be used in order to process exchange. In order to process your exchange please email info@ritualskinco.com or come to our main store location. 
8 Court St. S. Thunder Bay, ON, P7B2W3
Product must be returned to store during open hours. You can exchange for another product (price adjustments may be applied and paid before exchange can occur) or you can also exchange for store credit.
Products will no longer be accepted after 14 days regardless of reason.