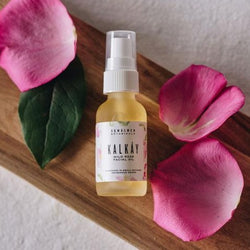 skwalwen
KALKÁY WILD ROSE FACIAL OIL | SḴWÁLWEN BOTANICALS
KALKÁY (call-kay) is the Squamish word for wild rose bush.
Made with sustainably-harvested rosehips and organic sweet almond and jojoba oils, this bestselling facial oil absorbs quickly while deeply hydrating the skin. The properties of rose help reduce redness and irritation. This oil feels light on the skin and leaves it super soft and nourished. The rose scent is incredible!
This product is also available as part of the Self Care Bundle.
Ingredients: Rosa nutkana (wild rosehip), Prunus dulcis (sweet almond) Oil*, Rosa canina (rosehip) Oil*, Calendula officinalis (Calendula) Oil*, Simmondsia chinensis (jojoba) Oil*, Essential Oils of: Rosa damascene (Rose) absolute Oil, Chamaemelum nobile (Chamomile) Oil, Pelargonium graveolens (Geranium) Oil
Instructions: Gently massage one to two pumps of the oil onto clean, dry skin. Can be used in place of or in combination with a moisturizer. Gentle enough for babies' skin and can be added to a bath for aromatic soothing.
30ml / 1.06oz
*organicSḴWÁLWEN BOTANICALS
Free Local Pick Ups
Pick Up Hours 
Sunday/Monday
CLOSED
Tues - Fri
10am - 5pm
Saturday
10am - 4pm
Deliveries are made Monday to Friday.
Local Deliveries (within 15km of store location) $7 or Free over $25
Local Deliveries take 1-2 business days to package and fulfill. 
Exchanges can be made within 14 days of the original order. Receipt MUST be used in order to process exchange. In order to process your exchange please email info@ritualskinco.com or come to our main store location. 
8 Court St. S. Thunder Bay, ON, P7B2W3
Product must be returned to store during open hours. You can exchange for another product (price adjustments may be applied and paid before exchange can occur) or you can also exchange for store credit.
Products will no longer be accepted after 14 days regardless of reason.