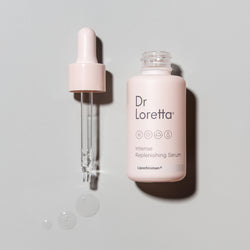 Intense Replenishing Serum | Dr. Loretta
Primes, soothes and protects skin.
This hydrating serum plumps skin appearance while increasing luminosity and smoothness. Antioxidant Lipochroman® protects against free radical damage caused by pollution and UV radiation - the leading causes of fine lines and age spots. Glycolipids replenish moisture loss caused by climate conditions, while vitamins E and F calm skin redness.
Pollution: Lipochroman®, the strongest of all antioxidants, provides your skin with maximum pollution protection.
Light: Lipochroman®, Vitamin E and linoleic acid protect against free radical damage caused by UV radiation.
Climate: Glycolipids, lecithin and linoleic and linolenic acids trap moisture into skin surface to keep skin well hydrated even in drier colder conditions or after exfoliants and peels.
Irritants: Intense Replenishing Serum is soothing and can be used on sensitive and post-procedure skin. Like all Dr. Loretta products, it's free of potential irritants including artificial fragrance, dye, parabens and phthalates.
Protocol: Results may vary. Average results shown. Study conducted on female subjects ages 34 to 62. For controlled results, females used Dr. Loretta's 3-step Intense Brightening Regimen (Micro-Exfoliating Cleanser, Intense Replenishing Serum, and Intense Brightening Cream) twice daily for 12 weeks. 
Key Ingredients:
Bioidentical Skin Lipids: Replenish moisture to provide instant radiance and keep skin well-hydrated even in dry, colder environments.
Antioxidant Lipochroman®:

 

One of the strongest antioxidants in skincare, protects from pollution including oxygen, nitrogen, and carbon free radical damage and tiny particles of urban dust known to damage skin cells and promote wrinkles and age spots.
Vitamin F (Linoleic and Linolenic acids) and Lecithin: Skin essential oils that are vital to a healthy skin barrier as they prevent water loss from skin surface.
Cyclopentasiloxane, Ethylhexyl Cocoate, Dimethiconol, Phenoxyethanol, Glyceryl Linoleate, Glyceryl Linolenate, Tocopheryl Acetate, Glycolipids, Lecithin, Dimethylmethoxy Chromanol.
Free Local Pick Ups
Pick Up Hours 
Mon - Fri
10am - 6pm
Saturday
10am - 4pm
Deliveries are made Monday to Friday.
Local Deliveries (within 15km of store location) $7 or Free over $85
Local Deliveries take 1-2 business days to package and fulfill. 
Exchanges can be made within 14 days of the original order. Receipt MUST be used in order to process exchange. In order to process your exchange please email info@ritualskinco.com or come to our main store location. 
8 Court St. S. Thunder Bay, ON, P7B2W3
Product must be returned to store during open hours. You can exchange for another product (price adjustments may be applied and paid before exchange can occur) or you can also exchange for store credit.
Products will no longer be accepted after 14 days regardless of reason.