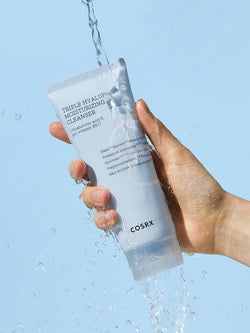 Hydrium Triple Hyaluronic Moisturizing Cleanser | COSRX
Vitamin B5 and three types of hyaluronic acid work to lock-in hydration!
What it is: Rich foam cleanser fortified with triple hyaluronic acid to deliver moisture whilst thoroughly cleansing the skin of impurities.

WHY IT'S SPECIAL:
Deep cleansing with plant-derived surfactant:
Simplify your cleansing routine with an all clearing cleanser.
Coconut derived surfactants offer a deep cleanse that gently dissolves impurities including makeup leaving the skin feeling super clean and refreshed.

Low stimulation cleanser with a rich, creamy formula:
Luxurious, bouncy bubbles minimize stimulation and enable you to gently cleanse away oil, sebum, and surface impurities without stripping the skin.

Hydrating cleanser with 3 types of hyaluronic acid:
High molecular hyaluronic acid creates an invisible protective barrier whilst low molecular hyaluronic acid soaks into the skin increasing its elasticity, keeping it hydrated and soft even after cleansing.

Ingredients:
Water, Glycerin, Stearic Acid, Myristic Acid, Lauric Acid, Potassium Hydroxide,Palmitic Acid, PotassiumCocoylGlycinate, Coco-Glucoside, Glyceryl Stearate,Fragrance(Parfum), Polyquaternium-7, Acrylates/C10-30 Alkyl AcrylateCrosspolymer, SodiumCocoylIsethionate, Arachidic Acid, Disodium EDTA, 1,2-Hexanediol, Oleic Acid, Sodium Benzoate,QuillajaSaponaria Bark Extract, CitricAcid, Butylene Glycol, Panthenol, Hyaluronic Acid,Ethylhexylglycerin, HydrolyzedHyaluronic Acid, Sodium Hyaluronate
How to use:
Gently massage the cleanser on wet skin.
Rinse thoroughly with warm water.
Free Local Pick Ups
Pick Up Hours 
Sunday
12pm - 4pm
Monday - Saturday
10am - 6pm
Deliveries are made Monday to Friday.
Local Deliveries (within 15km of store location) Free over $25
Local Deliveries take 1-2 business days to package and fulfill. 
Exchanges can be made within 14 days of the original order. Receipt MUST be used in order to process exchange. In order to process your exchange please email info@ritualskinco.com or come to our main store location. 
8 Court St. S. Thunder Bay, ON, P7B2W3
Product must be returned to store during open hours. You can exchange for another product (price adjustments may be applied and paid before exchange can occur) or you can also exchange for store credit.
Products will no longer be accepted after 14 days regardless of reason.