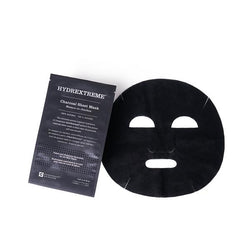 HydrExtreme Charcoal Sheet Mask | Consonant Skin + Care
The superior hydration of HydrExtreme® powers this potent sheet mask to leave skin illuminated, soft and smooth. HydrExtreme is clinically-proven to deliver superior hydration vs Hyaluronic Acid, even after 24 hours!
Since masking gives the skin prolonged exposure to the bioactive ingredients, we've fortified the formulation with a blend of advanced botanicals to boost skin health:
Tall Reed Extract and Poria Mushroom work together to optimize cellular function. They build up and accelerate barrier recovery while fortifying skin to reduce sensitivity. 
Frankincense Oil has been used in skin care for centuries thanks to its beneficial properties! It helps to upregulate cell turnover to promote healing while increasing collagen production.
Finally, Gotu Kola is a potent antioxidant to help protect the longterm health of the skin. It is a rich source of amino acids which helps to revitalize the skin's protective barrier.
INGREDIENTS:
Aqua, Propanediol, Glycerin, Cassia Angustifolia Seed Polysaccharide, Phragmites Karka Extract , Poria Cocos Extract, Centella Asiatica Extract, Coco-Caprylate/Caprate, Polyglyceryl-6 Caprylate , Polyglyceryl-4 Caprate, Polyglyceryl-6 Ricinoleate, Hydroxyethylcellulose, Lactobacillus Ferment, Lactobacillus, Cocos Nucifera Fruit Extract, Boswellia Carterii Oil, Citrus Aurantium Bergamia Peel Oil, Citrus Reticulata Peel Oil. 100% Natural.
*The mask is 100% biodegradable! Place mask in green bin or compost after use. Toss wipe package into your recycling bin.
Free Local Pick Ups
Pick Up Hours 
Sunday
12pm - 4pm
Monday - Saturday
10am - 6pm
Deliveries are made Monday to Friday.
Local Deliveries (within 15km of store location) Free over $25
Local Deliveries take 1-2 business days to package and fulfill. 
Exchanges can be made within 14 days of the original order. Receipt MUST be used in order to process exchange. In order to process your exchange please email info@ritualskinco.com or come to our main store location. 
8 Court St. S. Thunder Bay, ON, P7B2W3
Product must be returned to store during open hours. You can exchange for another product (price adjustments may be applied and paid before exchange can occur) or you can also exchange for store credit.
Products will no longer be accepted after 14 days regardless of reason.