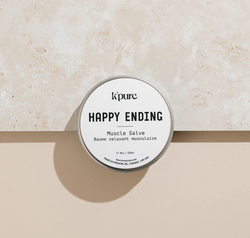 kpure
Happy Ending Muscle Salve | K'pure
Happy Ending is more than just a cheeky name, it's your post-workout, sore-muscle best friend.
Before the healing salve is blended, we infuse vitamin-rich sweet almond oil with a blend of organic peppermint (an anti-inflammatory that will ease muscle pain with a cooling sensation), Comfrey (helps to naturally repair muscle tears and strains, reduce inflammation and soothes pain), Arnica (an anti-inflammatory that works on sore muscles, sprains, arthritis and bruises), Cayenne Pepper (anti-inflammatory, antispasmodic and relieves all sorts of pain including muscle spasms and arthritis) and Turmeric (great for arthritis and joint inflammation).

Once the infusion is strained, we mix it with our organic calendula infusion, organic beeswax, and a blend of soothing, healing organic essential oils to make a wonder salve to use on muscle and joint pain, arthritis, after workouts and runs, or on strains and bruises. You'll want to avoid applying Happy Ending to broken skin. Use Overachiever or Super Overachiever instead.
Do not use on face, and make sure to wash hands after use (you don't want cayenne pepper or peppermint in your eyes!) Not meant for small children.

Contains: Organic peppermint, arnica, comfrey, cayenne and turmeric infused sweet almond oil, organic calendula infused sunflower oil, organic castor oil, organic beeswax, organic shea butter and mango butter, organic peppermint, eucalyptus, rosemary and other organic essential oils.

PLEASE NOTE: Your balm may become grainy over time, especially if the balm melts. To return the balm to it's creamy consistency: Remove lid from tin and place in oven at 200 degrees F, for 15 minutes. Remove carefully and place directly in fridge to firm up. Once firm, your balm will be as good as new!
Free Local Pick Ups
Pick Up Hours 
Sunday
12pm - 4pm
Monday - Saturday
10am - 6pm
Deliveries are made Monday to Friday.
Local Deliveries (within 15km of store location) Free over $25
Local Deliveries take 1-2 business days to package and fulfill. 
Exchanges can be made within 14 days of the original order. Receipt MUST be used in order to process exchange. In order to process your exchange please email info@ritualskinco.com or come to our main store location. 
8 Court St. S. Thunder Bay, ON, P7B2W3
Product must be returned to store during open hours. You can exchange for another product (price adjustments may be applied and paid before exchange can occur) or you can also exchange for store credit.
Products will no longer be accepted after 14 days regardless of reason.