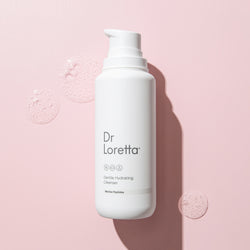 Gentle Hydrating Cleanser | Dr. Loretta
Calms, hydrates and removes impurities.
This richly textured gel cleanser is an effective anti-pollution formula that leaves skin silky smooth and super hydrated without stripping skin of natural oils. The all-in-one cleanser and makeup remover is gentle enough for face and eyelid skin and features a powerhouse marine algin that can absorb tiny pollution particles up to 30 times smaller than our pores before they penetrate and damage deeper living skin layers. Infused with moisturizing marine peptides, chamomile and ginger root essential oils, it is safe for sensitive, rosacea and post-procedure skin.
Pollution: Marine oligo saccharides, derived from brown seaweed, are clinically proven to reduce free radical damage by washing away tiny pollution particles known as particulate matter. The oligo saccharides also protect skin from damage caused by exposure to pollutants such as cigarette smoke, heavy metals and pesticides.
Climate: Marine peptides create a moisture surge to keep skin hydrated even in cooler, drier conditions and hydrate skin that is dry due to hormonal or other factors, including drugs.
Irritants: This sulfate-free formula won't redden or irritate skin or clog pores. Like all Dr. Loretta products, it's free of potential irritants including artificial fragrance, dye, parabens and phthalates. Chamomile essential oil soothes irritated skin.
Key Ingredients: 
Hydrolyzed Algin: Absorbs tiny pollution particles (up to 30 times smaller than our pores) to prevent free radical damage that accelerates skin pigment, age spots, and wrinkles.
Marine Peptides: Boost hydration and support collagen.
Chamomile & Ginger Root Essential Oils: Nourish and soothe redness and irritated skin.
Water (Aqua), Sodium Cocoyl Wheat Amino Acids, Cocamidopropyl Betaine, Glycerin, Hydroxypropyl Guar, Ahnfeltiopsis Concinna (Red Algae) Extract, Hydrolyzed Algin, Anthemis Nobilis (Chamomile) Flower Oil, Zingiber Officinale (Ginger) Oil, Phenoxyethanol.
Free Local Pick Ups
Pick Up Hours 
Sunday/Monday
CLOSED
Tues - Fri
10am - 5pm
Saturday
10am - 4pm
Deliveries are made Monday to Friday.
Local Deliveries (within 15km of store location) $7 or Free over $25
Local Deliveries take 1-2 business days to package and fulfill. 
Exchanges can be made within 14 days of the original order. Receipt MUST be used in order to process exchange. In order to process your exchange please email info@ritualskinco.com or come to our main store location. 
8 Court St. S. Thunder Bay, ON, P7B2W3
Product must be returned to store during open hours. You can exchange for another product (price adjustments may be applied and paid before exchange can occur) or you can also exchange for store credit.
Products will no longer be accepted after 14 days regardless of reason.