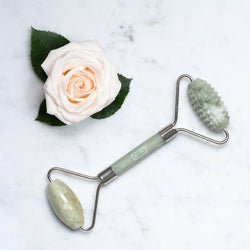 Dual-Action Jade Facial Roller | Province Apothecary
Experience radiant results, instantly.
 Our unique Dual-Action Jade Facial Roller features a smooth, polished end and a textured, studded end crafted from high-quality Xiuyan Jade. 
Studded End
Reduces the look of fine lines and plumps to smooth deep wrinkles

Releases fascia to help improve muscle function

Temporarily stimulates circulation to feed the skin and improve healing function

Tones and firms the appearance of skin

Activates the deep dermis-layer of skin to boost and maintain elasticity

Gently exfoliates and 

improves product absorption for maximum benefits

Won't break or damage the surface of the skin
Smooth End
Cools and calms the look of skin

Eases muscle tension

Reduces the appearance of puffiness and under-eye bags

Encourages lymphatic function
Directions


To watch our how-to video and for full ritual directions, visit our 
JADE FACIAL ROLLER RITUAL
page.
Caution


Avoid areas of inflammation or broken skin. Do not use the studded end on the same day as exfoliating products. Sensitive skin should only use studded end once a week.
Care


Wash your jade roller before usage. Because the studded side has been carved into a particular shape and hasn't been polished like the smooth side, it may have some residual dust particles on top. 
To clean, wash with gentle soap and pat dry.
Jade rollers are delicate, use them with care and light pressure. Do not expose jade rollers to extreme temperature changes as you may risk breaking them.

If your jade roller is squeaky, just add a few drops of serum to the end of the rollers.
Roller tension can be controlled by gently squeezing or separating the metal tongs. 
Each of our Jade Rollers are handmade in a small quantities. Exact colour and size may vary slightly from photo. Each roller is approximately 6.25" long x 3.75" wide.
Free Local Pick Ups
Pick Up Hours 
Sunday/Monday
CLOSED
Tues - Fri
10am - 5pm
Saturday
10am - 4pm
Deliveries are made Monday to Friday.
Local Deliveries (within 15km of store location) $7 or Free over $25
Local Deliveries take 1-2 business days to package and fulfill. 
Exchanges can be made within 14 days of the original order. Receipt MUST be used in order to process exchange. In order to process your exchange please email info@ritualskinco.com or come to our main store location. 
8 Court St. S. Thunder Bay, ON, P7B2W3
Product must be returned to store during open hours. You can exchange for another product (price adjustments may be applied and paid before exchange can occur) or you can also exchange for store credit.
Products will no longer be accepted after 14 days regardless of reason.