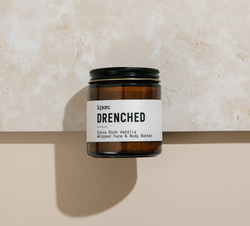 kpure
Drenched Whipped Body Butter | k'pure
When you're searching for a daily product that dramatically impacts how your skin feels, you reach for drenched.

Drenched is our best-selling luxurious whipped hydrating mousse. It gives skin a noticeably smoother, softer feel. It helps with moisture retention, sunburn, relief from dry skin and serves as a great addition to morning and evening routines.

Body butter can be thick and non-absorbing. Drenched is just the opposite. Whipped to a consistency that reminds us of birthday cake frosting, with scents to go with it. When applied to damp skin, drenched's organic shea butter, organic coconut oil, mango butter, and almond oil base melts on contact, absorbs beautifully, and leaves skin silky smooth and never greasy.

Use Drenched daily as a hydrating moisturizer for face and body or as part of a complete facial routine.

Spritz a toner like Good Morning, apply a serum like Lighten Up, and have your cake and eat it too with a small amount of Drenched to complete the trifecta.

Available in extra rich vanilla, lavender/citrus, orange/patchouli, coconut lime, almond cookie, and unscented.

Ingredients: Organic Shea Butter, Organic Coconut Oil, Mango Butter, Sweet Almond Oil and phthalate-free vanilla fragrance oil or organic essential oil blend. Lavender/Citrus does not contain Mango Butter.

250ml and 125ml jars available.

***

PLEASE NOTE: This product will melt in warmer temperatures. It WILL affect the consistency of the product, but it will not affect the quality. To firm your product, place it in the fridge rather than keeping it at room temperature. Drenched will reduce in volume as it loses its whipped texture and becomes a concentrated butter. You'll simply need to use even less.
Free Local Pick Ups
Pick Up Hours 
Sunday/Monday
CLOSED
Tues - Fri
10am - 5pm
Saturday
10am - 4pm
Deliveries are made Monday to Friday.
Local Deliveries (within 15km of store location) $7 or Free over $25
Local Deliveries take 1-2 business days to package and fulfill. 
Exchanges can be made within 14 days of the original order. Receipt MUST be used in order to process exchange. In order to process your exchange please email info@ritualskinco.com or come to our main store location. 
8 Court St. S. Thunder Bay, ON, P7B2W3
Product must be returned to store during open hours. You can exchange for another product (price adjustments may be applied and paid before exchange can occur) or you can also exchange for store credit.
Products will no longer be accepted after 14 days regardless of reason.