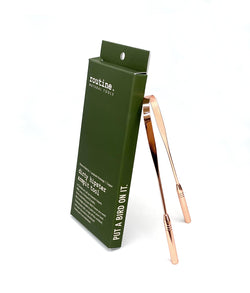 Dirty Hipster Armpit Tool | Routine
Removes Buildup | Aids Lymphatic Drainage | Copper
Why, and what is an armpit tool? And why didn't we learn about this in school? Isn't talking about armpits like, really cool?
Soap is really nice for surface bacteria, but that soap alone doesn't always cut it for armpits. Bacteria and product buildup can concentrate in your lil' pits, so sometimes they need a bit of extra care and attention. Routine's Dirty Hipster Armpit Tool, made of antibacterial copper, helps to remove that buildup & odour causing bacteria, whilst providing an excellent lymphatic drainage motion which is super beneficial for all around health. Your deodorant will be even more effective and your pits will be fresh and happy! Now you can for real throw your hands up in the air and wave them around like you just don't care. But you do care. You care a lot.
Free Local Pick Ups
Pick Up Hours 
Sunday/Monday
CLOSED
Tues - Fri
10am - 5pm
Saturday
10am - 4pm
Deliveries are made Monday to Friday.
Local Deliveries (within 15km of store location) $7 or Free over $25
Local Deliveries take 1-2 business days to package and fulfill. 
Exchanges can be made within 14 days of the original order. Receipt MUST be used in order to process exchange. In order to process your exchange please email info@ritualskinco.com or come to our main store location. 
8 Court St. S. Thunder Bay, ON, P7B2W3
Product must be returned to store during open hours. You can exchange for another product (price adjustments may be applied and paid before exchange can occur) or you can also exchange for store credit.
Products will no longer be accepted after 14 days regardless of reason.