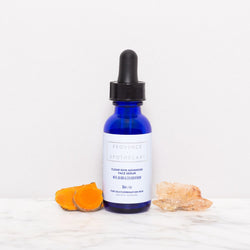 Clear Skin Advanced Face Serum | Province Apothecary
Our advanced formulation of plant-powered oils soothes skin's appearance for brighter, more even tone. It balances and tones, working to control the appearance of oil while providing hydration and protection from the elements. The high antioxidant content helps skin appear smoother, brighter and rejuvenated without harsh drying or irritating ingredients. Perfect for sensitive and problem skin, it restores skin's health and leaves you with a truly radiant complexion. 
Hydrating Jojoba Seed oil is ideal for problem skin. It's stability and resemblance to skin's natural sebum allows for optimal absorption into the skin. High Vitamin E content nourishes, balancing oil to reduce shine and clean pores. Sea Buckthorn is extremely rich in Vitamin C, Vitamin E, unsaturated fatty acids and essential amino acids, and beta-carotene. It brightens dull, dry skin and rejuvenates by fading the appearance of age spots and blotchy, uneven skin. 
Camellia Seed Oil*, Argan Oil*, Jojoba Seed Oil* [infused With Calendula  Flowers*, Plantain Leaves*, Gotu Kola*, Comfrey Leaves*, Green Tea Leaf*, Urtica Dioica (Nettle) Leaf*, Comfrey flowers*], Rosehip Seed Oil*, Raspberry Seed Oil*, Neem Seed Oil, Sea Buckthorn Oil, Vitamin E, Turmeric Root Oil, Frankincense Oil*, Immortelle Oil, Myrrh Oil.*certified Organic/certifié Biologique
Directions 
Apply after cleansing, while skin is still damp. Combine 6-8 drops of serum with equal parts water or toner in the palm of your hand. Massage into skin for 10-20 seconds. Follow with moisturizer or face balm for additional hydration. Use with our Clear Skin Advanced Spot Treatment for best results.
Discontinue use if irritation occurs. Store in a cool dark place.
Free Local Pick Ups
Pick Up Hours 
Sunday
12pm - 4pm
Monday - Saturday
10am - 6pm
Deliveries are made Monday to Friday.
Local Deliveries (within 15km of store location) Free over $25
Local Deliveries take 1-2 business days to package and fulfill. 
Exchanges can be made within 14 days of the original order. Receipt MUST be used in order to process exchange. In order to process your exchange please email info@ritualskinco.com or come to our main store location. 
8 Court St. S. Thunder Bay, ON, P7B2W3
Product must be returned to store during open hours. You can exchange for another product (price adjustments may be applied and paid before exchange can occur) or you can also exchange for store credit.
Products will no longer be accepted after 14 days regardless of reason.