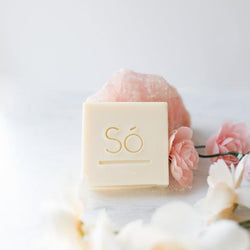 so luxury
Gentle Cleansing Bar - Lather | Só Luxury
Só Luxury's Lather Gentle Cleansing Bar is made with olive oil, cocoa butter and coconut milk.  Our soap will cleanse baby's sensitive skin on those days you need a little more than our Coconut & Oat Milk Bath (think dirty little piggy feet or a blowout).
Please note that our Gentle Cleansing Bar does not contain any chemical ingredients to make it tear-free like traditional baby soaps. As such, care should be made to ensure soap does not get into baby's eyes.
We recommend using the soap by rubbing onto a wet washcloth rather than putting the bar into the tub and using directly on baby. This will ensure you have control over the soap and baby won't rub it into his or her eyes accidentally. It will also ensure the longevity of your soap. Allow soap to dry between uses for the longest shelf life.
Ingredients: Olea Europaea Fruit Oil (Olive Oil), Theobroma Cacao (Cocoa) Seed Butter, Cocos Nucifera (Coconut) Milk, Aqua, Glycerin.
Free Local Pick Ups
Pick Up Hours 
Sunday/Monday
CLOSED
Tues - Fri
10am - 5pm
Saturday
10am - 4pm
Deliveries are made Monday to Friday.
Local Deliveries (within 15km of store location) $7 or Free over $25
Local Deliveries take 1-2 business days to package and fulfill. 
Exchanges can be made within 14 days of the original order. Receipt MUST be used in order to process exchange. In order to process your exchange please email info@ritualskinco.com or come to our main store location. 
8 Court St. S. Thunder Bay, ON, P7B2W3
Product must be returned to store during open hours. You can exchange for another product (price adjustments may be applied and paid before exchange can occur) or you can also exchange for store credit.
Products will no longer be accepted after 14 days regardless of reason.