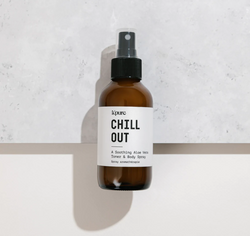 kpure
Chill Out Aloe Vera Mist | k'pure
After a day in the sun, wind, or cold, you're reaching for aloe-based products to soothe, cool, and restore.

Chill Out, our aloe and essential oil spray will give you instant relief from windburn or sun exposure. Lotions and gels can leave your skin sticky and oily, Chill Out is just the opposite. Feeling stressed? A few spritzes and some deep breaths will help calm you, inside and out. We know you used sunscreen (right?!) but sometimes that re-apply window closes on us all. Chill Out is here for you, we got you.

You may not be able to say Aloe Barbadensis Leaf Juice three times fast, but a few misty sprays to your face, neck, and chest, and you'll be feeling refreshed. Keep a bottle in the fridge for next-level chill and grab it out while you're reaching for a glass of lemonade.

For our indoorsy types, use Chill Out daily year-round as a hydrating facial toner ahead of your serums like Lighten Up, and moisturizers like Go Getter and Drenched.

Ingredients: purified water, Aloe Barbadensis Leaf Juice, Organic Hamamelis Virginiana (witch hazel) and a blend of pure and organic essential oils.

125ml and 30ml bottles available.
Free Local Pick Ups
Pick Up Hours 
Sunday
12pm - 4pm
Monday - Saturday
10am - 6pm
Deliveries are made Monday to Friday.
Local Deliveries (within 15km of store location) Free over $25
Local Deliveries take 1-2 business days to package and fulfill. 
Exchanges can be made within 14 days of the original order. Receipt MUST be used in order to process exchange. In order to process your exchange please email info@ritualskinco.com or come to our main store location. 
8 Court St. S. Thunder Bay, ON, P7B2W3
Product must be returned to store during open hours. You can exchange for another product (price adjustments may be applied and paid before exchange can occur) or you can also exchange for store credit.
Products will no longer be accepted after 14 days regardless of reason.