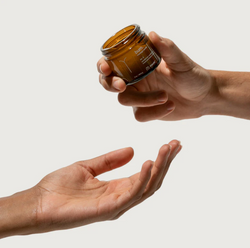 Burn No. 3 Massage Candle | Maude
massage candle in notes of eucalyptus and sandalwood.
Scent no. 3: Fresh notes of eucalyptus, sandalwood, cassis and Haitian vetiver

Made with skin-softening jojoba and soybean oils, this hand-poured massage candle is made with a 100% cotton, lead-free wick and cruelty-free ingredients. Once melted and extinguished, it can be poured on the skin. Contains soy.

○ Cruelty-free
○ Glycerin-free
○ Paraben-free
○ Made in USA
HOW TO USE BURN NO. 3

Light the candle for 10–15 minutes to allow enough oil to form (and it'll help set the mood). Once you blow out the candle, the melted oil is ready to use. Because it's oil-based, the candle has a lower burning temperature and will be warm. You can either pour the oil directly onto the skin, or apply with your fingertips and massage it in. The light and silky texture will moisturize and absorb into the skin, and can be reapplied as desired.

To extinguish your candle, gently blow out the flame and contain any smoke with the jar's lid. A wick snuffer works great, too. Never attempt to extinguish a candle using water.
BURN NO. 3 FAQ

What is the best way to apply the melted oil?
Once you blow out the candle, the melted oil is ready to use. The oil requires no cooling due to the low melting point of the natural oils that make up burn. You can either pour the warm oil straight onto the skin, pour a small amount into your hand first, or dip and apply the candle oil with your fingertips.

What are the fragrance notes?
burn no. 3 is lightly scented with notes of eucalyptus, sandalwood, cassis, and Haitian vetiver. The candle's melted oil can be used for massaging into the skin or simply use the candle to infuse scent in the room.

Are there any metals in the wick?
Every wick we use is made from 100% cotton with a lead-free, aluminum base.
BURN NO. 3 DETAILS + INGREDIENTS

100% cotton, lead-free wick
Cruelty-free
Phthalate-free
Made with jojoba and soybean oils
Low burning temperature
Ultra-hydrating
Hand-poured
Manufactured in New York
Hydrogenated Soybean Oil, Ricinus Communis (Castor) Seed Oil, Cetearyl Alcohol, Parfum (Fragrance), Lauryl Laurate, Olea Europaea (Olive) Fruit Oil, Hydrogenated, Castor Oil, Cera Alba, Copernicia Cerifera (Carnauba) Wax, Euphorbia Cerifera (Candellia) Wax, Jojoba Oil, Benzyl Benzoate, Coumarin, Benzyl Alcohol
2 oz.
Free Local Pick Ups
Pick Up Hours 
Sunday
12pm - 4pm
Monday - Saturday
10am - 6pm
Deliveries are made Monday to Friday.
Local Deliveries (within 15km of store location) Free over $25
Local Deliveries take 1-2 business days to package and fulfill. 
Exchanges can be made within 14 days of the original order. Receipt MUST be used in order to process exchange. In order to process your exchange please email info@ritualskinco.com or come to our main store location. 
8 Court St. S. Thunder Bay, ON, P7B2W3
Product must be returned to store during open hours. You can exchange for another product (price adjustments may be applied and paid before exchange can occur) or you can also exchange for store credit.
Products will no longer be accepted after 14 days regardless of reason.