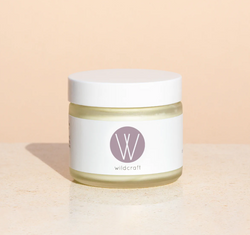 Clarify Bergamot and Rose Face Cream | Wildcraft
A decadent daily moisturizer that targets impurities for clearer, more balanced skin. Best for combination or sensitive skin.

Find clarity. This cleansing and balancing face cream delivers immediate nourishment and comfort through a powerful blend of naturally purifying ingredients. Cleansing bergamot, soothing neem oil, and calendula-infused grapeseed oil work to calm complexions prone to breakouts while improving skin texture for a clear, even glow.

100% natural
65% organic
Certified cruelty-free

Benefits & Effects:
Clarifying
Balancing
Nourishing

Ingredients:
Calendula* infused grapeseed oil
Aloe vera gel*
Rose flower water*
Purified water
Kukui nut oil
Rice bran oil*
Beeswax*
Ecocert approved vitamin E oil
Neem oil
Ylang ylang and Bergamot essential oils
*organic

Shelf life and product care:
This product has a shelf life of 12 months. A date stamp on the bottom of each product packaging marks the MM/YYYY when it was made, so you know when it should be used by.
All Wildcraft products are made fresh with 100% natural ingredients and without harsh or chemical preservatives. To ensure the shelf life of your all-natural product is not compromised, avoid introducing water into the container and always handle products with clean, dry hands. Tightly secure lids and store products in a cool, dry place.

First time using this product?
If this is your first time using this product, we recommend patch testing before use. This can be done by simply applying a small amount of product to your forearm and waiting 24 hours to see if irritation occurs. If you are pregnant or breastfeeding, you may want to speak with your health care practitioner for further guidance before using products that contain essential oils.
2 oz | 60 ml
Free Local Pick Ups
Pick Up Hours 
Sunday/Monday
CLOSED
Tues - Fri
10am - 5pm
Saturday
10am - 4pm
Deliveries are made Monday to Friday.
Local Deliveries (within 15km of store location) $7 or Free over $25
Local Deliveries take 1-2 business days to package and fulfill. 
Exchanges can be made within 14 days of the original order. Receipt MUST be used in order to process exchange. In order to process your exchange please email info@ritualskinco.com or come to our main store location. 
8 Court St. S. Thunder Bay, ON, P7B2W3
Product must be returned to store during open hours. You can exchange for another product (price adjustments may be applied and paid before exchange can occur) or you can also exchange for store credit.
Products will no longer be accepted after 14 days regardless of reason.