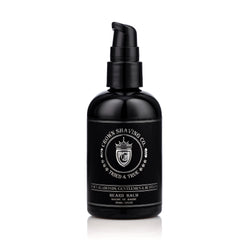 Beard Balm | Crown Shaving Co.
This beard balm helps soften and freshen beard hair.
Ingredients: Purified water (aqua), aloe barbadensis gel, olea europaea (olive) oil, citrus bergamia (bergamot) oil, lavendula angustifiola (organic lavender) distillate, citris uranium (orange blossom) neroli distillate, Shea butter (naturally refined) vegetable glycerin, Isopropyl myristate, phenoxyethanol, ethylhexylglycerin, tochopheryl acetate, tochopherol (vitamin E), polysorbate 80, carbomer, disodium EDTA.
Directions: Apply a small amount into palms, and massage into beard. Leave in.
Free Local Pick Ups
Pick Up Hours 
Sunday
12pm - 4pm
Monday - Saturday
10am - 6pm
Deliveries are made Monday to Friday.
Local Deliveries (within 15km of store location) Free over $25
Local Deliveries take 1-2 business days to package and fulfill. 
Exchanges can be made within 14 days of the original order. Receipt MUST be used in order to process exchange. In order to process your exchange please email info@ritualskinco.com or come to our main store location. 
8 Court St. S. Thunder Bay, ON, P7B2W3
Product must be returned to store during open hours. You can exchange for another product (price adjustments may be applied and paid before exchange can occur) or you can also exchange for store credit.
Products will no longer be accepted after 14 days regardless of reason.