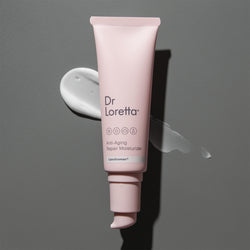 Anti-Aging Repair Moisturizer | Dr. Loretta
Enjoy our multi-purpose moisturizer that tightens, brightens, and corrects.
There is so much goodness in our Anti-Aging Repair Moisturizer. This incredibly versatile, lightweight cream not only hydrates, but also repairs and protects your skin from visible aging. Lipochroman®, a supercharged antioxidant bio-inspired by Vitamin E, defends against pollution — a leading cause of fine lines and age spots. Chromabright®, an innovative molecule developed to deeply penetrate your skin, brightens dark spots and adds luminosity. Plus, effective firming peptides and natural botanicals combine forces to soothe the skin. It's a daily cream that works overtime just for you.
Pollution: Antioxidant Lipochroman® provides the strongest defense from free radical damage, protecting skin from pollution including damage caused by tiny particulate matter.
Light: Chromabright® and Lipochroman® protect skin from free radical damage caused by UV rays and HEV light.
Climate: Pure chamomile, lavender and geranium essential oils replenish moisture.
Irritants: Like all Dr. Loretta products, this product is free of potential irritants including artificial fragrance, dye, parabens and phthalates.
Protocol: Results may vary. Average results shown. Study conducted on female subjects ages 37 to 75. For controlled results, females used Dr. Loretta's 3-step Anti-Aging Repair Regimen (Gentle Hydrating Cleanser, Anti-Aging Repair Serum, and Anti-Aging Repair Moisturizer) twice daily for 12 weeks. 
Key Ingredients:
Antioxidant Lipochroman®: Protects from pollution and "urban dust", including oxygen, nitrogen, and carbon free radicals, which can lead to age spots and wrinkles.
Chromabright®: Derived from Vitamin E, this highly effective moisturizer evens skin tone as it protects skin from free radical damage caused by UV and HEV (blue light) emitted from computer screens and cell phones.
Marine Peptides: Supports skin's collagen while providing hydration.
Water (Aqua), Caprylic/Capric Triglyceride, Simmondsia Chinensis (Jojoba) Seed Oil, Glycerin, Cetearyl Alcohol, Dimethicone, Cetearyl Glucoside, Potassium Cetyl Phosphate, Carbomer, Phenoxyethanol, Caprylyl Glycol, Xanthan Gum, Ethylhexylglycerin, Hexylene Glycol, Butylene Glycol, Pseudoalteromonas Ferment Extract, Dimethylmethoxy Chromanyl Palmitate, Anthemis Nobilis (Chamomile) Flower Oil, Pelargonium Graveolens (Geranium) Flower Oil, Lavandula Angustifolia (Lavender) Oil, Dimethylmethoxy Chromanol, Proline, Alanine, Serine, Sodium Phosphate, Tetrapeptide-21, Sodium Hydroxide.
Free Local Pick Ups
Pick Up Hours 
Sunday/Monday
CLOSED
Tues - Fri
10am - 5pm
Saturday
10am - 4pm
Deliveries are made Monday to Friday.
Local Deliveries (within 15km of store location) $7 or Free over $25
Local Deliveries take 1-2 business days to package and fulfill. 
Exchanges can be made within 14 days of the original order. Receipt MUST be used in order to process exchange. In order to process your exchange please email info@ritualskinco.com or come to our main store location. 
8 Court St. S. Thunder Bay, ON, P7B2W3
Product must be returned to store during open hours. You can exchange for another product (price adjustments may be applied and paid before exchange can occur) or you can also exchange for store credit.
Products will no longer be accepted after 14 days regardless of reason.