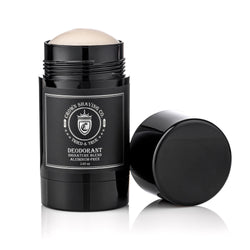 Aluminum-Free Deodorant | Crown Shaving Co.
Description: Give bad odours a round house kick with our all-day deodorant. We can't promise you won't break a sweat doing it, but rest assured your pits won't itch seeing as it's aluminum and alcohol-free. It's also fragranced with our famous signature scent and small enough to get through customs. 
Ingredients: Tapioca Starch, Cocos Nucifera (Coconut) Oil, Ozokerite wax, Sodium bicarbonate, Glycine Soja (Soybean) Oil, Butyrospermum Parkii (Shea) Butter, Caprylic/Capric Triglyceride, Fragrance, Tocopheryl acetate.
Free Local Pick Ups
Pick Up Hours 
Sunday/Monday
CLOSED
Tues - Fri
10am - 5pm
Saturday
10am - 4pm
Deliveries are made Monday to Friday.
Local Deliveries (within 15km of store location) $7 or Free over $25
Local Deliveries take 1-2 business days to package and fulfill. 
Exchanges can be made within 14 days of the original order. Receipt MUST be used in order to process exchange. In order to process your exchange please email info@ritualskinco.com or come to our main store location. 
8 Court St. S. Thunder Bay, ON, P7B2W3
Product must be returned to store during open hours. You can exchange for another product (price adjustments may be applied and paid before exchange can occur) or you can also exchange for store credit.
Products will no longer be accepted after 14 days regardless of reason.